Rammstein by a male choir



The repertoire of many modern choirs has had to adapt quite radically to keep young people interested - that's made for some interesting adaptations of sometimes controversial music. One German choir has successfully tackled the song 'Angel' by idiosyncratic German heavy metal band Rammstein.

http://www.youtube.com/watch?v=MhI1fWOZvkM&feature=channel



January 12, 2009




_________________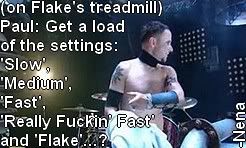 Total Guitar: So would you ever consider having your own penis enlarged?
Paul: No, mine is already way too long.